Early in 2018 we submitted an application to the Heritage Lottery Fund (HLF) Young Roots programme to work with Robert Smyth Academy in Market Harborough on a project to commemorate the 100th anniversary of the Representation of the People Act. This act extended the franchise to women over 30, many of whom voted for the first time in the general election of December 1918.
Although the Pankhursts and Emily Davison are nationally famous, it is important to remember the many ordinary women and men who joined the campaign and fought for equality. Leicestershire, Leicester and Rutland had many notable campaigners including Alice and Alfred Hawkins, Nellie Taylor and Elisabeth Frisby who deserve to be better known and who can serve as an inspiration to young people today.
The group visited the Record Office twice, had trips to the Women's Library and Houses of Parliament and undertook work in school. They used original sources to find out about local champions and produced information on a campaigner they found especially inspirational.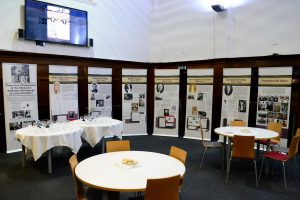 This exhibition was produced by them and is available to borrow from the Record Office. If you would like to borrow it please contact us.
For more information about the project and a project report please click here.