Century of Stories WWI Project
A Century of Stories is a Heritage Lottery funded project which explored the social history surrounding the individual and shared legacy of the First World War of the people of Leicester and Leicestershire.
Share in our discoveries and learning
The project started in 2014 and finished in December 2018 but its legacy will survive. It focused on how the deep-rooted social, cultural, community and individual consequences of the conflict still resonate in our society today. With professional research support, the project empowered local people to discover their own personal connection to the conflict and uncover how all of our stories combine to create the diverse and unique history of Leicestershire in the First World War. The project was made possible with support from the Heritage Lottery Fund, Friends of Leicester & Leicestershire Museums and the Royal British Legion and was managed by Leicestershire County Council.
In 2014 Century of Stories partnered with the Record Office for Leicester, Leicestershire and Rutland (ROLLR) to work together throughout the four key years of commemorations, to enable the project to deliver high quality local initiatives, informed by key research and artefacts from Leicestershire at the time.
Holding the written heritage of the two counties and the city from 1000 years ago to the present day, ROLLR acted as a key partner for the project, hosting events, school and group visits, undertaking research and hosting exhibition materials and databases in partnership with CoS, enabling pioneering and bespoke activities to take place with new audiences throughout Leicester and Leicestershire.
The work created by everyone involved with CoS over the four commemoration years has been digitally archived and access is detailed below:
Local Stories
Thousands of connections have been discovered and the individual stories from local people are diverse. They are all unique. They are inspiring, heartwarming, emotive, educational and often surprising. Please visit Historypin to read these stories.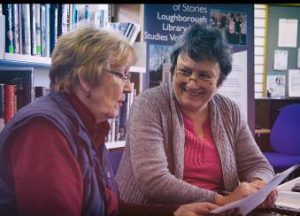 Research guide
At the beginning of every journey, participants were given a resource pack to help them with their research and discovering their connections. The resource pack contains step by step advice on how to begin your research with useful contacts and web pages. The pack can be downloaded here
Art Work
CoS has inspired many groups who wouldn't normally engage in history, to research soldiers and life at home 100 years ago. This wonderful art work created by groups as diverse as school pupils to prisoners, people living in hostels for homeless people to adult learners can be viewed at Pinterest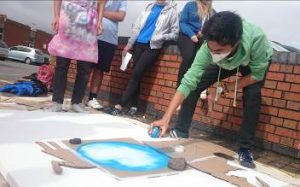 Banners
Throughout the life of the project, over 50 pop up banners have been created by local communities which tell their stories. These banners have toured the county and have been displayed at libraries, universities, museums, community centres, academic lectures, shopping centres and WW1 events. You can view these banners at Pinterest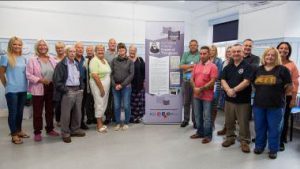 Films
Our film maker Bill Newsinger has made outstanding short films of the many events and commemorations that have been held across the county. Also some projects have written and made their own films. All of these can be seen on YouTube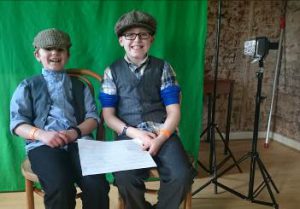 WWI Education Packs
In 2016 at the National Remember WW1 Awards, the project won two awards; one was for 'Bringing WW1 Alive in Schools' using the Century of Stories Education Packs.
These packs have been specifically designed for Key Stage 2 and 3 but are also more than suitable for other groups beginning their voyage of research and discovery into WW1.
We are delighted to be able to provide 17 topics to choose from, ranging from 'life in the trenches' to 'conscientious objectors'. Each section provides key questions for discussion, background information for tutors, with exciting images from Leicestershire and a selection of activities to enhance learning. This resource pack can be viewed and downloaded here
Academic Research
An important part of the project was to commission academics to research topics specific to the local area that have not been researched before.
This research was presented at an event at De Montfort University on 9th November 2018 and the papers are available below: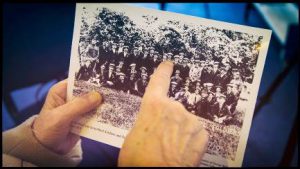 All change?…or maybe not!
Denis Kenyon and Max Bridgewater from the Hallaton Great War Project told the story of Hallaton village in World War One.
It is frequently assumed that World War One transformed all aspects of society in one fell swoop. A deep study of Hallaton village, its social strata, organisations, activities and working practices, comparing life in 1913 with that of 1919, actually shows remarkably little social transformation. However, the turmoil of the war sowed the seed of change in the years to come. This research is presented as an excerpt from their book "Hallaton in the Great War" and can be downloaded here
How did Leicestershire save the nation from starvation?
Professor John Martin, Fellow of Leicester University, explained how Leicestershire came to the country's aid.
This presentation explored Leicestershire's contribution to saving the nation from possible starvation during World War One, a period when the country depended heavily on imported food. It highlighted that this country was considerably more successful than most others in terms of both increasing agricultural production and ensuring a more equitable distribution of available food supplies.
The accompanying paper will be available to download in April 2019.
Do war memorials cause conflict?
Elizabeth Blood from Leicester University has surveyed over 200 Leicestershire people and compares modern attitudes and personal viewpoints to those of a century ago.
Local World War One memorials can be taken at face value, but a closer look reveals a century of change. Public debate shaped the making of memorials and has shaped them ever since. Based on a public survey of over 200 people, this presentation exposed vastly differing modern attitudes to memorials and commemoration. It highlighted these personal viewpoints in order to reveal why war memorials remain so contested to this day.
The research paper accompanying this presentation can be downloaded here
Global War Graves: Challenging who belongs in Leicester's 'local' World War One story
What are the stories that the graves at Welford Road Cemetery can tell us? Hanna Smyth and Enshia Li from the Global War Graves project provided information about burial in nearly every theatre of World War One.
Local World War One history is inextricably connected to the conflict's global nature. The war caused millions of people to travel to, serve in, die in, and be buried or commemorated in places far away from their homes. Right here in Leicester's Welford Road Cemetery are hidden some of these stories: of immigration, foreign service, death abroad on land or sea, and burial in nearly every theatre of the war. This creates a web of connections tying Leicester to the wider world. 'Global War Graves' aims to highlight examples of this in order to expand our ideas of who is part of Leicester's 'local' World War One story.
The research paper accompanying this presentation can be downloaded here
The developing acknowledgement of shellshock using local soldier's original medical records
What was shellshock and how do we know that it was so misunderstood in the early years of World War One? Dr John Sutton has been studying local soldiers' original medical records. Using the now digitised MH106 collection it has been possible to research the treatment of various types of shellshock, which was misunderstood in the early years of World War One.
This presentation focused on research into the digitised MH106 records and demonstrated a slow but gradual acceptance of the neurological conditions and the consequent methods of treatment.
The research paper accompanying this presentation will be available here in April 2019.
For details about access to the MH106 records please see Searchable Databases.
Dr Tom Thorpe from the Western Front Association has been researching what motivated Leicestershire men to enlist and fight in World War One
This presentation argued that men were motivated by a multifaceted range of factors to sign-up, cope with daily life on frontline service and, ultimately, fight. These influences were often highly personal, contextual and rooted in the social and cultural norms of the soldiers' wider civilian lives within pre-war Edwardian society, such as notions of patriotism, duty and stoicism.
The research paper accompanying this presentation can be downloaded here
Let us offer higher education as our war memorial
Who were the local men and women who organised, raised funds and made donations? Dr Simon Dixon from the university re-evaluated the story.
Leicester, Leicestershire and Rutland College – now the University of Leicester – was founded in 1921 as a 'living memorial' to World War One. It was intended to honour all who had served by showing respect for the dead and performing a duty to the living. This presentation re-evaluated the origins of the University through a detailed study of the local men and women who organised, raised funds, and made donations to honour their loved ones in the cause of higher education.
The research paper accompanying this presentation can be downloaded here
You might also be interested in...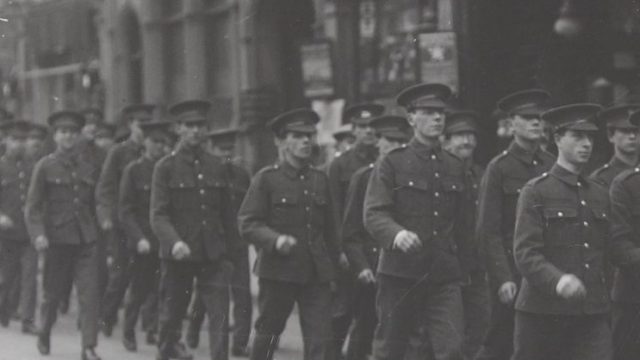 The commemoration of the Great War has produced many resources drawing upon the experiences of...