Obtaining Copies of Records
The Record Office offers various copying services undertaken by staff. Our searchrooms are equipped with computers, microfiche and microfilm readers and appropriate printers. Therefore it is possible to obtain a copy of a diverse material such as printouts from family search websites (e.g. Find My Past, Ancestry), newspaper articles, parish registers, wills etc.
Whilst many copies can be provided the same day, larger orders may need to be collected or posted. Postage will normally be charged in addition to the cost of the copies.
Ordering Copies
We also offer analogue (physical) and digital copies of items in our collections, subject to copyright and other restrictions such as items' condition and size, to be ordered via email or letter. To request a copy please download one of the forms below, fill it in, sign it and return to the office via email or post. Please note we only supply digital copies and cannot photocopy registers (e.g. parish, workhouse, vehicle registration) but if you are not sure what format the original you wish to order copy of is, please get in touch so we can advise you further.
We accept cheques and card payments and all our copy orders are subject to a minimum charge of £6.00.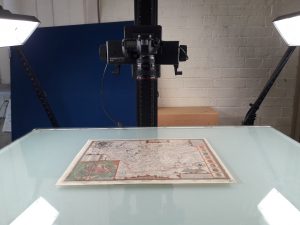 Photographic Permit
Visitors are allowed to use their cameras in the search rooms by purchasing a Photographic Permit. The current  fee is £8.00 for a daily permit. Terms and Conditions apply.