WE REGRET TALKS AND TOURS ARE NOT CURRENTLY AVAILABLE
We encourage groups to visit the office to find out more about our work and are happy to offer talks and tours in the evening and at the weekend.
The Work of the Record Office
An introductory visit to the office costs £50 and normally consists of a short introduction, tour of the public rooms, storage areas and conservation and the chance to see a selection of archives. Access is all on one level and although the conservation unit is on the first floor we can make arrangements to bring material downstairs if anyone in the group has mobility difficulties. We normally ask for a minimum of 10 people for a visit.
If you would like to book a group visit please Contact us.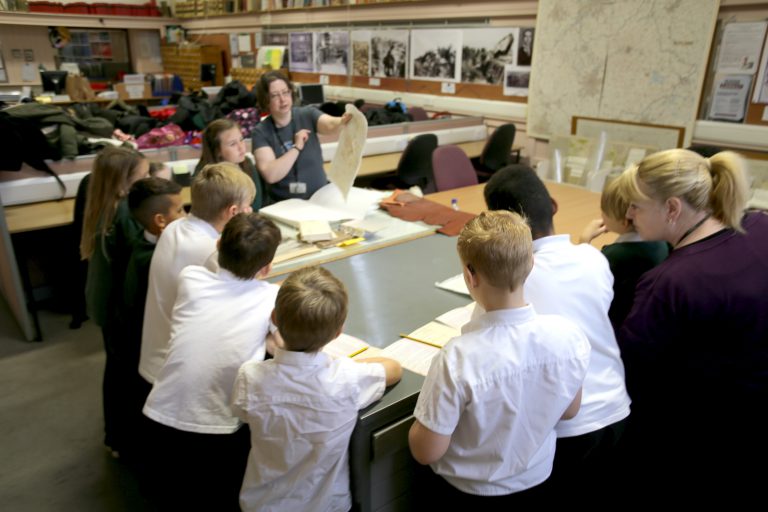 Talks Outside the Office
We are able to deliver talks to groups in different locations but cannot bring documents with us for security reasons. The fee for outside talks is £50 and we may require additional travel expenses.
Talks are usually delivered with the help of a PowerPoint presentation on a computer so we will need somewhere to plug in a laptop. The Work of the Record Office talk includes a look at some of our most popular, unusual and exciting documents.
If you would like to book an outside talk please Contact us.
Talks on Different Subjects
As well as an introduction to the Record Office staff can deliver talks on other subjects including The Life and Times of Richard III, Hospital and Asylum Records and a variety of World War One topics.
See the list of subjects here.
Booking a talk
All talks and visits are subject to the availability of staff and we reserve the right to refuse bookings.
We do not normally take bookings more than six months ahead of the required date. This is to ensure that we can fulfil the booking commitment.
On rare occasions it may be necessary to cancel a talk at short notice, for example, if the staff member delivering it is ill. If this is the case, we will refund any monies paid to us but cannot offer compensation. Where possible an alternative date will be offered to the group.