Information on visiting The Record Office from 19th July 2021
We are looking forward to welcoming more people back to the Record Office. However the health & wellbeing of visitors and staff remain our key priority. We are therefore taking a more gradual approach to lifting our Covid safety measures. We continue to encourage the use of face coverings for visitors and staff. Visits are still by pre-booking only although unlimited items can now be ordered on demand again. Please see 'Book Your Visit' on our home page for revised booking procedures. Thank you for your patience whilst we implement our gradual reopening plan. UPDATE: The Record Office will be open on SATURDAY mornings 21 August, 4 September and 18 September. We will be CLOSED FOR STOCKTAKING from 25 September to 9 October (inclusive).
New Thistleton Maps Available
3rd May 2019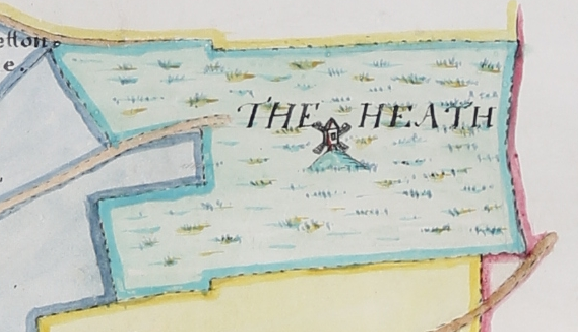 Thanks to the generosity of our Friends of the Record Office, we have just acquired two significant maps of Thistleton in Rutland. The first map shows Thistleton with its large open fields (Wood Field, Heath Field, the Cow Pasture, etc.) and a few, small enclosures at the edges of the manor. The houses of the village are shown clustered around the church and a windmill, on its mound, is drawn at the centre of 'The Heath'. The second map is a proper, measured survey by Charles Day of Collyweston. Possibly made to aid the Tithe Commissioners' work, the map shows the parish wholly enclosed, each little field numbered and with its acreage shown. Curiously, while one map has East at the top, the other faces West and so one must be put upside down for comparison! Although one map is of the manor and the other of the parish, in effect they cover the same ground and consequently provide a 'picture' of the transformation of the village and its surrounding fields from the late eighteenth until the mid-nineteenth century. This is especially pleasing as it covers the period immediately before the large-scale Ordnance Survey plans appeared and so extends our knowledge of this Rutland parish another century or more into the past.