The Record Office is CLOSED until further notice
Focusing on the health and wellbeing of our staff and customers remains our top priority. In line with national guidance and government recommendations we will close our Record Office from 4pm on Wednesday 4 November. The closure of our Record Office, along with other cultural and heritage attractions across the nation, will mean tougher times ahead for those working in the sector. We hope to continue to support researchers by responding to enquiries and providing copies of records where possible. Please make use of our online catalogues and resources. We will let you know when bookings are open again. We're all in this together and will make sure our approach reflects the latest government guidelines. Keep up to date by visiting www.gov.uk/coronavirus and follow our social media channels.
New Thistleton Maps Available
3rd May 2019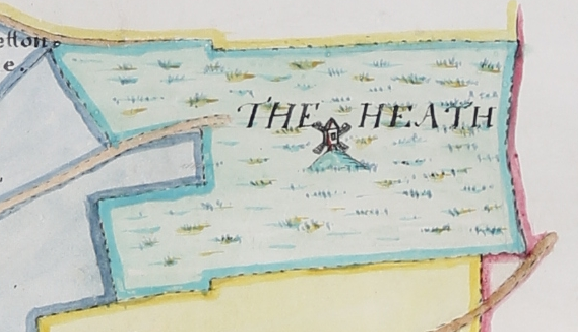 Thanks to the generosity of our Friends of the Record Office, we have just acquired two significant maps of Thistleton in Rutland. The first map shows Thistleton with its large open fields (Wood Field, Heath Field, the Cow Pasture, etc.) and a few, small enclosures at the edges of the manor. The houses of the village are shown clustered around the church and a windmill, on its mound, is drawn at the centre of 'The Heath'. The second map is a proper, measured survey by Charles Day of Collyweston. Possibly made to aid the Tithe Commissioners' work, the map shows the parish wholly enclosed, each little field numbered and with its acreage shown. Curiously, while one map has East at the top, the other faces West and so one must be put upside down for comparison! Although one map is of the manor and the other of the parish, in effect they cover the same ground and consequently provide a 'picture' of the transformation of the village and its surrounding fields from the late eighteenth until the mid-nineteenth century. This is especially pleasing as it covers the period immediately before the large-scale Ordnance Survey plans appeared and so extends our knowledge of this Rutland parish another century or more into the past.