Information on visiting The Record Office from 19th July 2021
We are looking forward to welcoming more people back to the Record Office. However the health & wellbeing of visitors and staff remain our key priority. We are therefore taking a more gradual approach to lifting our Covid safety measures. We continue to encourage the use of face coverings for visitors and staff. Visits are still by pre-booking only although unlimited items can now be ordered on demand again. Please see 'Book Your Visit' on our home page for revised booking procedures. Thank you for your patience whilst we implement our gradual reopening plan. UPDATE: The Record Office will be open on SATURDAY mornings 21 August, 4 September and 18 September. We will be CLOSED FOR STOCKTAKING from 25 September to 9 October (inclusive).
New booking procedures and gradual easing of restrictions
30th July 2021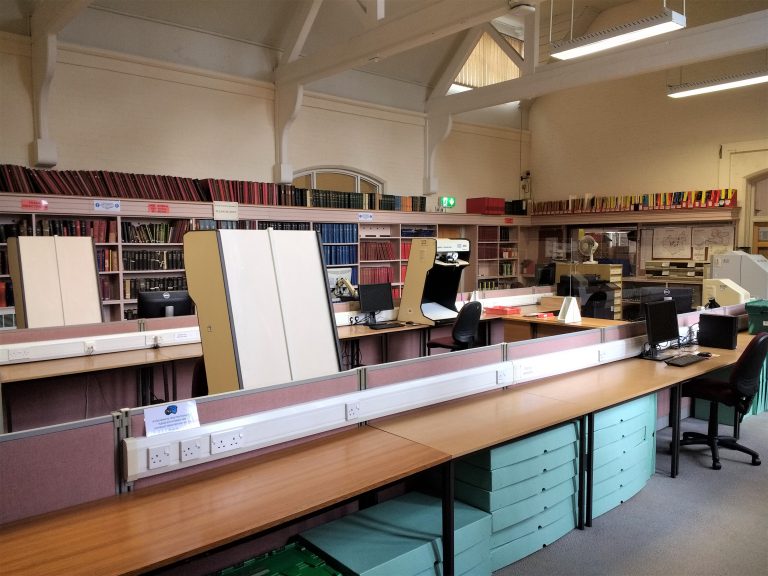 While we are pleased to be able to lift some of our Covid safety measures, the health and wellbeing of visitors and staff remain our key priority. Searchroom capacity is still limited and we continue to encourage social distancing and the wearing of face coverings.
The National Archives has indicated that the quarantining of documents is now not necessary. Pre-ordering of material and the completion of booking forms are no longer required. We have returned to production of items on demand (up to 3 at a time) with no limit on the number per session.
Searchroom spaces must still be pre-booked by phone or email.
Visitors can once more browse catalogues, indexes and material on the open shelves, as well as complete request slips for items from the strongrooms. We encourage the use of hand sanitiser beforehand.
Our opening hours have increased slightly and the following are now available for public use again:
Dedicated computer for viewing online catalogues
Microform scanner/copier
An additional microfilm reader
Please see our revised booking procedures and opening hours [pdf]
We hope to open up our normal service further in the coming months.